General Assembly candidates to appear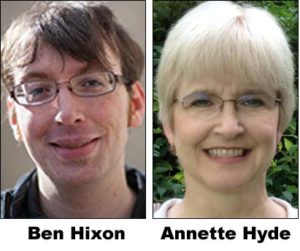 Two candidates for the Democratic n0mination to the House of Delegates from the 30th District will be guests of the Lake of the Woods Democratic Club on Wednesday, April 12.
The meeting time for the LOW Democratic Club has been permanently changed from the third Thursday of each month to the second Wednesday in an effort to accommodate interested members who have not been able to attend the meetings.
Annette Hyde is a yoga teacher who lives in Madison County. She is a native of Fort Worth, Texas, who grew up in suburban Dallas. She holds a bachelor's degree in communications / journalism with honors from the University of Texas in Arlington, Texas.
She was certified as a group fitness instructor in 1995 and teaches yoga at Powell Wellness Center and Pranapiloga yoga studio in Culpeper.
Hyde said, "I'm running for office because I care. I care about voters choosing their representatives, not politicians choosing their voters. I care about women being able to choose what they can or can't do with their bodies. I care about health care being a right instead of a luxury. I care about rural communities getting broadband Internet access and better cell phone reception. I care about public school money not being used for private school vouchers. I care about the poor, disabled, elderly, women and children and what tax breaks to the wealthy will do to them."
Ben Hixon, 34, is a computer programmer born and raised in Louisiana. He and his partner moved to Culpeper from Seattle, Wash., in 2016.
Hixon is the first openly gay candidate to seek office in District 30. He said he decided to run when his current delegate, Nick Freitas, sponsored a discriminatory anti-LGBT bill, HB 2025, that guarantees tax money to government contractors and subsidized groups who discriminate against gay married couples.
He describes himself as a progressive libertarian, which means he supports personal and economic liberty coupled with strong social safety nets funded by progressive taxation.
"Healthcare and an affordable education aren't just good: they're fundamental freedoms that must be guaranteed to every Virginian," Hixon said. "How can we be free to live our lives if we're not safe from disease and terror? If we don't have an education? If we don't have clean water to drink and clean air to breathe?"